Our Deals
We're proud of our track record of successful deals! And in addition, their specifics can be a great source of information when you're considering a new project. Read on to learn all the ins and outs:
Boyd Corporation acquired Grando-Massin
MP Corporate Finance advised Boyd Corporation on the cross-border acquisition of Belgium-based specialist in engineered materials & high-tech parts
Grando-Massin Holding SRL, located in Belgium and France, specialises in high-performance polymers, elastomers, and composites for critical applications in the highly-regulated rail and industrial technology industries.
Grando's unique material science expertise in converting a wide range of technical materials including rubber, foam, and plastic polymers enriches the technological know-how of Boyd's engineering capabilities. Highly innovative operations further contribute to Boyd's focus on high performance, sustainability, and lean manufacturing.
Grando has blue-chip long-term customer relationships in niche markets, characterised by high entry barriers, and a strong regional scope, especially in the French and Belgian markets, which presents a very attractive opportunity to Boyd to further expand.
Boyd's value-driven innovation and technology create marketable differentiation for its customers. Driven by Boyd's growth approach with a strong sales platform, the acquisition will boost Grando's development in the coming years even further.
MP Value Add
Having a great pipeline of highly suitable European companies out of a large pool of opportunities in custom engineered materials, MP managed to close the next deal for Boyd in Europe within a very short time frame.
MP's extensive industry and transaction experience allowed them to provide ongoing support for Boyd and led to an efficient and structured due diligence and contract negotiation process. Subsequently, a simultaneous signing and closing were possible within a few weeks after signing a nonbinding agreement.
This transaction is a new milestone in the implementation of Boyd's growth strategy in Europe. Grando will enhance Boyd's regional polymer manufacturing capabilities, accelerate innovation in high growth markets like transportation and mobility, renewable energy, battery storage, and industrial technology and add regional services for Boyd's European customers.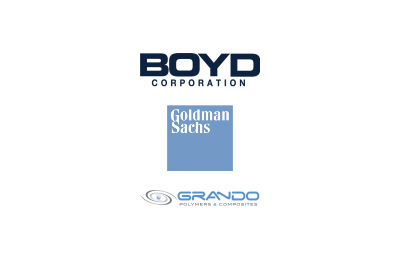 Boyd Corp. backed by Goldman Sachs acquired Grando-Massin Holding from the shareholders.
The MP Team has been a key partner to Boyd in our European expansion. They have combined a deep understanding of our strategic needs with high professionalism in M&A to help us drive great outcomes. Their deal team is available 24/7 and employs entrepreneurial thinking and a differentiated approach to open doors with potential partners, creating a relationship built on trust from the beginning

Joop Ruijgrok, Managing Director EMEA at Boyd Corporation
The latest information about MP
Ready to start?!
Our teams of specialised dealmakers and ambitious M&A
challengers, are ready to take on your challenge – and exceed your expectations, every day.
Market leader in 8 fields of expertise
600+ industrial M&A projects
60+ professionals form the largest industrial M&A team
Adding credibility to your deal
Maximising your value with our challenger mindset