Our Deals
We're proud of our track record of successful deals! And in addition, their specifics can be a great source of information when you're considering a new project. Read on to learn all the ins and outs:
Ring International acquired Iris Lack
MP Corporate Finance acted as the exclusive financial advisor to Ring International Holding AG in the acquisition of Iris Lack GmbH as part of the buy & build strategy.
By opening the industrial paint division by acquiring the Austrian Rembrandtin in 2006, Ring International Holding (RIH) created another successful pillar for its business, which is to be developed by driving an active consolidation of the industrial paint area. As part of the implementation of this buy & build strategy, MP Corporate Finance carried out a discreet transaction process for Ring International Holding, which constituted an ideal solution for all parties involved.
Iris Lacke GmbH, which initially exclusively manufactured liquid paint for painters and varnishers, was foundedin 1930. Apart from the production of wet paint, the manufacture of environmentally friendly powder paint also started in 1989. Step by step, this production became the company's core competence. With the Eitorf location, the Group's product range was extended by the manufacture of high-quality powder paint. Iris Lacke GmbH offers an extensive range of epoxy resin, hybrid and polyester powders for varied industrial application areas.
Ring International Holding AG is a leading company group in the field of office supplies and industrial paint, with a total of 30 companies, of which 12 are production sites. Globally, RIH employs 1,300 staff on three continents. On a production area of 83,000 m², among others 1.7 billion soft plastic covers are manufactured each year, as are 60 million binder filling mechanisms, approximately 185 million level mechanisms for the office supplies industry, but also 20,000 tons of liquid coating for road markings, corrosion protection and other industrial applications such as 10,000 tons of powder coating for industrial applications.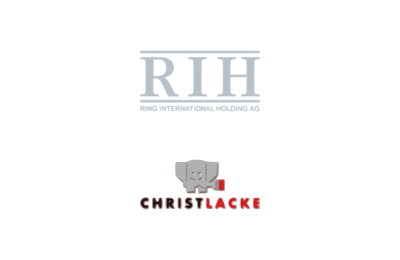 RIH acquired Christ Lacke from the owner
The latest information about MP
Ready to start?!
Our teams of specialised dealmakers and ambitious M&A
challengers, are ready to take on your challenge – and exceed your expectations, every day.
Market leader in 8 fields of expertise
600+ industrial M&A projects
60+ professionals form the largest industrial M&A team
Adding credibility to your deal
Maximising your value with our challenger mindset