Our Deals
We're proud of our track record of successful deals! And in addition, their specifics can be a great source of information when you're considering a new project. Read on to learn all the ins and outs:
Scheuch Group acquired a majority interest in CamCorp Group
MP Corporate Finance acted as M&A advisor to Austrian Scheuch Group in the acquisition of US-based CamCorp Group as part of a structured globalization campaign.
Scheuch Group is an Austrian specialist in industrial air purification plants and clean-air technology for the wood, wood-based products, industrial minerals, metals and energy industries. The group's operations comprise approx. 1,000 employees in 20 countries.
CamCorp Group is based in Lanexa, Kansas, in the United States. The group is a specialist provider of industrial filtration equipment. The company provides filter systems of up to 160m³/hour as well as innovative dust collection solutions and material & air conveying equipment.
With the acquisition of CamCorp, Scheuch took an important step to further expand its presence in the large US-American market for industrial air pollution control equipment and components. CamCorp, with its established sales organization, manufacturing network and innovative product solutions, will allow Scheuch to serve existing and new clients for its technologically leading air purification plants and solutions with closer proximity and broader technology portfolio.
Together with the founders of CamCorp, who will retain parts of their shares, Scheuch intends to leverage both CamCorp's as well as Scheuch's products and know-how to develop a pan-continental APC partner for demanding industrial clients worldwide.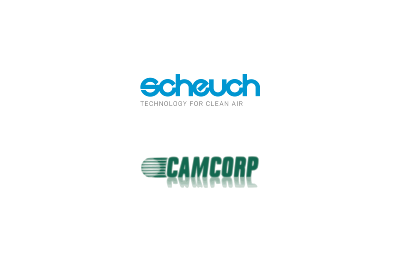 Scheuch Group acquired a majority stake in CamCorp
MP was a very valuable partner during both of our US acquisition processes in the previous year. They not only provided very detailed analyses, but also were a great sparring partner and a true support in the negotiations coming up with smart solutions to deal with challenging situations. It was a pleasure to work with the MP team on these transactions.

Dr. Michael Kostka, Head of M&A at Scheuch Group, Austria
Nach dem erfolgreichen Abschluss unserer Akquisition in den USA möchten wir uns bei Ihnen recht herzlich für Ihre Unterstützung bei dem gesamten Prozess bedanken. Die Erwartungen, die wir mit dem Engagement der MP hatten, haben Sie zu unserer vollsten Zufriedenheit erfüllt. Dies betrifft sowohl Ihre Branchenkenntnis, Ihre Fachexpertise hinsichtlich einer Transaktion wie auch Ihr zu jedem Zeitpunkt stets professionelles Auftreten und Ihr hohes Engagement.

Stefan Scheuch, Jörg Jeliniewski, Managing Directors at Scheuch GmbH, Austria
The latest information about MP
Ready to start?!
Our teams of specialised dealmakers and ambitious M&A
challengers, are ready to take on your challenge – and exceed your expectations, every day.
Market leader in 8 fields of expertise
600+ industrial M&A projects
60+ professionals form the largest industrial M&A team
Adding credibility to your deal
Maximising your value with our challenger mindset