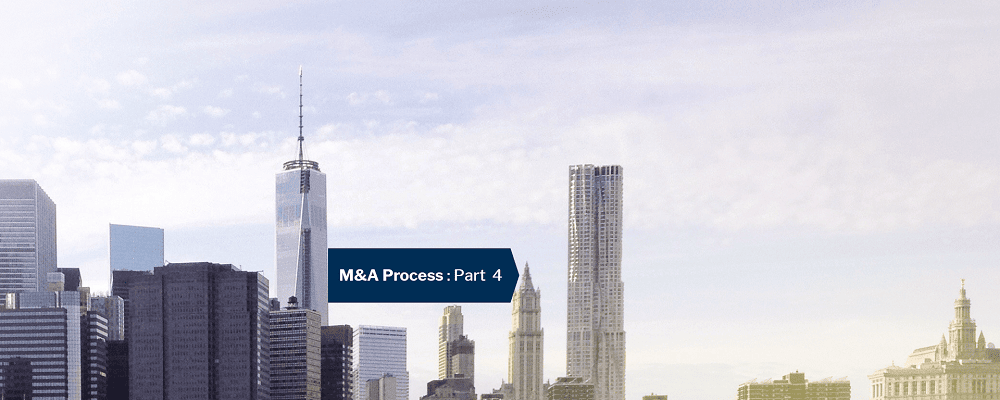 Getting Your Sell-Side Deal Done – Due Diligence
In this the fourth part of our series on "Getting Your Sell-Side Deal Done" we will continue the process where we left off at the end of part 3: Indicative bids of a sell side process. Our preparation and documentation are complete, we've approached potential investors, had them sign an NDA. We've now received Indicative Bids from interested parties and will start the Due Diligence phase.
Initiating Due Diligence
You have decided with which parties you want to continue the process and allow access to more sensitive information to allow them to conduct a due diligence on your client's company. The goal of the due diligence is to provide the investor the necessary comfort and trust to go ahead with the transaction and hand in a binding offer reflecting all, if any, findings from the due diligence process. The scope of the investor's due diligence is dependent on the size, location and background of the transaction, internal corporate guidelines and at the end of the day what we, together with our client, have decided to show the interested party. The typical due diligence is comprised of financial, tax and legal (must-haves), often commercial, environmental and technical, and to a lesser extent HR, insurance or IT information.
Setting Up the Virtual Data Room (VDR)
To kick things off, you will send out invites to the Virtual Data Room ("VDR") platform (e.g. Merrill or Intralinks) along with some ground rules (e.g. number of questions allowed, no direct contact to your client) to the due diligence participants, the investors have provided to you. The type of files the participants can find in your nicely structure VDR at the start may vary:
All at once
You provide all available files from the beginning of the due diligence process. This process is rarely used, sometimes in situations where you grant an investor exclusivity and your client is not afraid to share sensitive business information against your recommendation.
Excluding sensitive information
You provide all available files excluding files that contain sensitive business information (e.g. customer information, machinery details, etc.). Sensitive information can be provided either in a redacted version, at a later stage (e.g. shortly before or even after signing), in a separate part of the VDR where only the investor's legal advisors have access under strict rules (i.e. a clean room data room) or not at all. The latter is every client's wish but rarely successful.
Step-wise opening of the VDR
In some cases, it might make sense to open the VDR with a certain set of information (e.g. financial) and continue updating the VDR along the way. This can become necessary if you simply do not have a complete set of information for some parts of the VDR.
In the first 1-2 weeks of the due diligence investors will have many questions which they are able to post on the VDR platform. It is then your job to go through the questions, provide answers where possible, and connect with your client to finalise answers and to receive clearance. This can become a time-consuming task and your client will appreciate your help.
On-Site Visits and Expert Sessions
Besides the desktop review of information, investors may want to send some experts to the site to conduct e.g. an environmental or technical visit, especially in industrial transactions. These visits, if more than one investor needs to be accommodated, need smart scheduling trying to avoid suspicion among the employees and/or operational interruptions.
On top of that, it can become necessary to schedule Q&A expert sessions either in person (not necessarily at the site) or via conference calls. Nothing is more exciting than to listen to tax advisors discussing about the latest tax change in Romania. These sessions usually prove to be a very efficient way to clar up any ambiguities but need your guidance to not end up in the never-ending due diligence nirvana.
Closing the Due Diligence Phase
The due diligence phase as described above typically takes 4-6 weeks (as with everything M&A there might be the exception leaving you with 4 months due diligence but no deal) and ends with the investor handing in a binding offer together with a mark-up on the SPA that you have provided in the VDR shortly before the end of due diligence. At this stage you should already be aware of who will hand in such an offer based on the number of active VDR participants, hours spent in the data room, number of documents accessed, etc. In an ideal scenario you end up with multiple binding offers leaving you and your client in the difficult position to decide with whom you will continue negotiating the SPA and finalising the transaction.
The latest information about MP
Ready to start?!
Our teams of specialised dealmakers and ambitious M&A
challengers, are ready to take on your challenge – and exceed your expectations, every day.
Market leader in 8 fields of expertise
600+ industrial M&A projects
60+ professionals form the largest industrial M&A team
Adding credibility to your deal
Maximising your value with our challenger mindset