Our Deals
We're proud of our track record of successful deals! And in addition, their specifics can be a great source of information when you're considering a new project. Read on to learn all the ins and outs:
Ayala Corporation's industrial unit acquired MT Misslbeck Technologies GmbH
MP Corporate Finance acted as the exclusive M&A advisor to Ayala Corporation, one of the largest business groups in the Philippines, in the acquisition of MT Misslbeck Technologies GmbH by its industrial arm, AC Industrial Technology Holdings Inc., as the group advances its strategy to be a more active player in the development and production of next-generation Automotive technologies.
Ayala Corporation, the Philippines' oldest conglomerate with businesses in real estate, financial services, telecommunications, water, and a broad range of industries, has recently embarked on expanding its presence in the industrials space through its subsidiary, AC Industrial Technology Holdings Inc. ("AC Industrials"). AC Industrials currently holds Ayala's interests in Integrated Micro-Electronics, Inc., the 6th largest Automotive electronics manufacturing services provider in the world based on revenues, and partnerships with Automotive OEMs Honda, Isuzu, Volkswagen and Austrian motorcycle company KTM AG.
Since last year, AC Industrials has actively pursued investments to assemble a portfolio of businesses that develop, enable, manufacture, and commercialize Automotive and other industrial technologies. MT Misslbeck Technologies GmbH is the latest addition to this portfolio, supporting Ayala's goal to enhance its development and manufacturing service offerings for next-generation cars.
MT Misslbeck Technologies GmbH is a 148-year-old German Automotive preferred supplier specializing in modelling and cubing, design and manufacturing of injection moulds for Automotive parts, and serial production of high-end Automotive plastic parts. Headquartered in Ingolstadt, a town in Bavaria, the company is within close proximity to Audi's headquarters, among other leading Automotive suppliers.
MP Corporate Finance supported Ayala through the entire acquisition process. The Automotive Electronics transaction team played a key role in managing the due diligence, transaction analysis and structuring, all cross-border communications, and SPA negotiations. Based on deep industry knowledge and extensive transaction experience in the global Automotive Electronics industry, MP Corporate Finance was able to tailor the M&A process to advance Ayala's interests.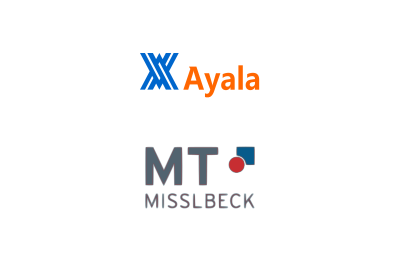 Ayala Group acquired MT Misslbeck
Every cross-border transaction involves complex dynamics which include but also go beyond valuation and structuring considerations. Apart from their technical competence, we found MP's flexibility, responsiveness, and commitment to Ayala's interests as vital to the successful closing of the deal.

Felipe P. Estrella III, CFO at AC Industrial Technology Holdings Inc., Philippines
The latest information about MP
Ready to start?!
Our teams of specialised dealmakers and ambitious M&A
challengers, are ready to take on your challenge – and exceed your expectations, every day.
Market leader in 8 fields of expertise
600+ industrial M&A projects
60+ professionals form the largest industrial M&A team
Adding credibility to your deal
Maximising your value with our challenger mindset