Our Deals
We're proud of our track record of successful deals! And in addition, their specifics can be a great source of information when you're considering a new project. Read on to learn all the ins and outs:
Stadlbauer Marketing + Vertrieb sold to Quantum Capital Partners
MP Corporate Finance acted as the exclusive financial advisor to the founding family in the sale of Stadlbauer Marketing + Vertrieb with its core brand Carrera
Stadlbauer Marketing + Vertrieb (SMV) is specialised in the design, development, marketing, sales and distribution of toys. With the renowned Carrera brand, SMV is the world market leader and epitome of slot car racing. Further products include remote-controlled vehicles (Carrera RC), soap bubbles (Pustefix) and other well-known toy brands.
In light of succession within the owner-managed group, the new shareholder shall spur SMV's future growth strategy and unlock new strategic opportunities.
Quantum Capital Partners is an international, rapidly growing private equity firm headquartered in Munich. This strategic acquisition strengthens Quantum's position in the toy market. In 2018, Quantum acquired Revell GmbH, a leading manufacturer of plastic model kits and remote-controlled toy models.
MP Value Add
MP succeeded in elevating SMV beyond mere figures to a highly desirable group of brands in order to create a seller-friendly environment as well as ensure transaction safety and a clean exit for the owner family.
Throughout the highly competitive process MP has meticulously managed communication with potential investors to successfully maintain a strong momentum. MP took the commercial lead in SPA negotiations achieving an outstanding result in terms of valuation, timing and commitments.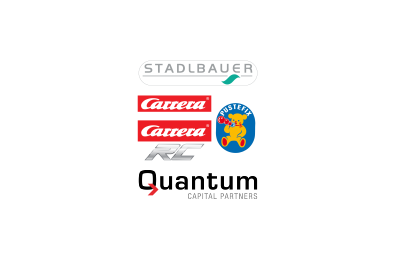 The founding familiy sold Stadlbauer Marketing + Vertrieb to Quantum Capital Partners
I am deeply impressed by MP's versatility and commercial savvy. Their outstanding negotiation skills allowed us to achieve an excellent outcome for the parties involved, including all members of my family. We very much appreciate MP's professionalism during this strategic journey.

Andreas Stadlbauer, Former CEO at Stadlbauer Marketing + Vertrieb
The latest information about MP
Ready to start?!
Our teams of specialised dealmakers and ambitious M&A
challengers, are ready to take on your challenge – and exceed your expectations, every day.
Market leader in 8 fields of expertise
600+ industrial M&A projects
60+ professionals form the largest industrial M&A team
Adding credibility to your deal
Maximising your value with our challenger mindset