Our Deals
We're proud of our track record of successful deals! And in addition, their specifics can be a great source of information when you're considering a new project. Read on to learn all the ins and outs:
Chemes sold to Innova Capital
MP acted as the exlusive sell-side advisor to Abris in the sale of Chemes
Abris CEE Mid-Market Fund II invested in Chemes in 2015, acquiring a majority stake in the business. During the holding period, together with Maciej Szperliński, the founder and CEO of the company, an ambitious investment program had been executed including the development of laminate tubes as new product category. As a result, Chemes has significantly increased its sales and operational capabilities, enforcing its position as a recognized player on the label market.
Today, Chemes is a leading producer of self-adhesive labels with extensive printing expertise serving FMCG companies from all over Europe in industries such as cosmetics, personal hygiene products, food production and logistics.
For Innova Capital Chemes is the second investment in the labels and flexible packaging market following the acquisition of Drukarnia Embe Press in March 2019. The two companies are leading players in the label market in Poland with a complementary product offer for the various customer groups. Thus both assets are highly attractive from the fund's perspective.
MP Value Add
MP acted as the exclusive sell-side advisor to Abris Capital throughout the entire transaction process.
Through its wide network in the packaging industry, MP has carefully identified the most suitable buyers and executed a competitive auction process. By including a limited number of selected international trade buyers and financial investors MP was able to maximize value to the seller while maintaining an efficient and timely transaction process.
Furthermore, MP enabled its client a clean exit with optimal risk allocation through a ubiquitous problem-solving approach in combination with firm negotiation skills.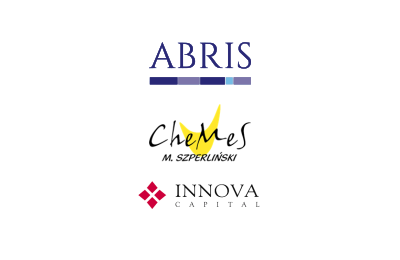 Abris Capital Partners sold Chemes to Innova Capital
The transaction team at MP understood our objectives as private equity investor and learnt quickly about unique features of the company. Their knowledge of the industry and potential buyers' universe became instrumental in completing a successful transaction in a timely and smooth manner

Edgar Kolesnik, Investment Director at Abris Capital Partners
The latest information about MP
Ready to start?!
Our teams of specialised dealmakers and ambitious M&A
challengers, are ready to take on your challenge – and exceed your expectations, every day.
Market leader in 8 fields of expertise
600+ industrial M&A projects
60+ professionals form the largest industrial M&A team
Adding credibility to your deal
Maximising your value with our challenger mindset