Our Deals
We're proud of our track record of successful deals! And in addition, their specifics can be a great source of information when you're considering a new project. Read on to learn all the ins and outs:
TEDA & LDS Plast sold to CEECAT Capital
MP Corporate Finance acted as the exclusive M&A advisor to the founding family in their sale of the #1 independent sustainable food packaging thermoformer in the Balkans
Founded in 1992, Teda-MM (TEDA) has established itself firmly as the largest independent thermoforming company for rigid food packaging in the Balkan region. Alongside TEDA's continuous growth track record, the company acquired their local key competitor, LDS Plast (LDS) in 2015 widening further the product portfolio and forming a harmonious food packaging group.
Since 2015, the shareholding family managed to double their revenue and to transform both businesses into top-tier suppliers for sustainable thermoformed food packaging companies in Bulgaria, South-Eastern Europe and beyond. Today, the companies achieve more than two-thirds of sales from exports. The group's vast and versatile range encompasses countless types of MAP trays and catering packaging – all produced from fully recyclable, sustainable (r)PET, PP or as biodegradable solutions.
The logical next step is to continue the unbroken success story: An alliance with a strong partner supporting growth to the next level.
Investor
The deal marks the second investment of the CEECAT Fund II, which focuses on regional champions supporting the Fund's themes driven by core convergence, export competitiveness and import substitution in the fast-growing Eastern European markets.
MP Value Add
Based on our direct access to top-level stakeholders in the packaging industry and financial sponsors, MP carefully identified and selected the best partners to support TEDA's and LDS' expansion going forward.
Despite ongoing uncertainties induced by the COVID-19 pandemic, MP seamlessly executed this complex process involving four jurisdictions, shareholder participation, two group entities, as well as asset transactions.
The deal offers the parent generation a full exit while the latest generation of the founding family participates in the significant future upside of their partnership with experienced regional equity investor CEECAT Capital. The future setup will carry the company to its next era by becoming a regional heavyweight.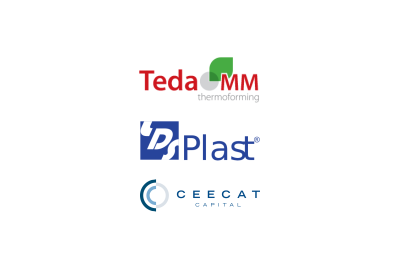 The founding family sold their majority stakes in TEDA & LDS to CEECAT Capital
One of our biggest strengths in business is seizing the right opportunity at the right time. After years of strong development of our companies, we knew the right time had come to look for a reliable partner in order to develop our business to a higher level. This is why we engaged MP. With their professionalism and dedication, they supported us through the most important process in the best possible way to achieve our goals for the future development of our companies. Thank you!

Teodora Mladenova & Danail Mladenov, Founding families at TEDA & LDS Plast, Bulgaria
The latest information about MP
Ready to start?!
Our teams of specialised dealmakers and ambitious M&A
challengers, are ready to take on your challenge – and exceed your expectations, every day.
Market leader in 8 fields of expertise
600+ industrial M&A projects
60+ professionals form the largest industrial M&A team
Adding credibility to your deal
Maximising your value with our challenger mindset