Our Deals
We're proud of our track record of successful deals! And in addition, their specifics can be a great source of information when you're considering a new project. Read on to learn all the ins and outs:
The shareholders sold Aarts Packaging to TriMas
MP Corporate Finance acted as the exclusive M&A advisor to the shareholders of Aarts Packaging in the sale to TriMas
The shareholders of Aarts Packaging, a leading luxury packaging player, sold 100% of the shares to TriMas.
Founded in 1943 Aarts Packaging is an innovative producer of injection-moulded plastic packaging for global beauty and luxury end-markets as well as food packaging. With its highly automated facility in the Netherlands the Company produces ~270m products annually.
TriMas Corporation, a US-based NASDAQ-listed company operating globally in consumer products, aerospace and industrial markets, approaching ~USD 1bn sales with TriMas Packaging being the largest group with approx. 60% of sales. TriMas Packaging specializes in injection-moulding and advanced assembling for beauty & personal care, food & beverage, home care, pharmaceutical, etc.
In 2019, company owner Rob Geurtz partnered up with Dutch private equity firm Berk Partners, in order to take the company to the next level, which now led to the successful exit. The transaction will unlock new growth opportunities for Aarts, while TriMas will add a variety of cosmetic closures and beauty packaging design solutions, strengthen its European footprint and bring in-house automation experience, moulding capabilities and deep relationships with prestigious clients to the global group.
MP Value Add
MP's dedicated team successfully advised the shareholders of Aarts Packaging through all the stages of the auction process starting from the establishment and positioning strategy to preparation of marketing documents and negotiations with potential bidders up to closing.
Even in the face of high market turbulences and uncertainty, MP managed to create a highly competitive bidding environment, which led to a mutually beneficial cross-continental transaction for Aarts Packaging and TriMas Corporation underpinning once again MP's unique sector expertise.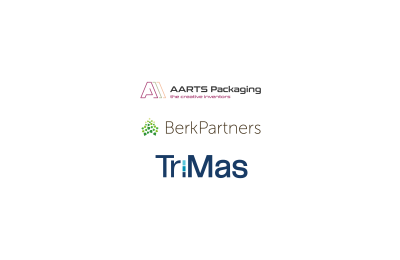 The shareholders sold Aarts Packaging to TriMas
MP managed to generate a very well-balanced playing field, leading to a very good strategic fit with the final buyer. This all within a tight time schedule.

Rob Geurtz, CEO & Shareholder at Aarts Packaging
MP's professionalism and active leadership during the M&A process was vital in achieving a successful transaction. Their understanding of the industry and hands-on approach were crucial factors. The full-service approach of the MP Team, their high commitment and broad M&A execution experience and contacts made them a valuable partner throughout the whole process. They maintained the process discipline, stuck to the timetable and delivered a very successful outcome. It was a great pleasure to work with the MP team.

Willem Kamps, Managing Partner at Berk Partners
The latest information about MP
Ready to start?!
Our teams of specialised dealmakers and ambitious M&A
challengers, are ready to take on your challenge – and exceed your expectations, every day.
Market leader in 8 fields of expertise
600+ industrial M&A projects
60+ professionals form the largest industrial M&A team
Adding credibility to your deal
Maximising your value with our challenger mindset