Our Deals
We're proud of our track record of successful deals! And in addition, their specifics can be a great source of information when you're considering a new project. Read on to learn all the ins and outs:
Zurmont Madison acquired AKAtech
MP Corporate Finance acted as Financial advisor to Swiss Zurmont Madison Private Equity in the acquisition of a majority shareholding in Austrian AKAtech – a specialist in high-quality electromechanical assembly and the manufacture of complex wiring harnesses.
Zurmont will provide active financial and industrial support in implementing the next steps towards growth. AKAtech, which has its head office in the Austrian town of Frankenmarkt, currently employs around 350 people at three production facilities in Austria and Slovakia. The company assembles semi-finished goods, as well as complete systems and devices, for customers all over the world. Its high level of expertise in electromechanical production is primarily used for applications in the fields of mechatronics and medical technology. At the same time, the company has also established itself as a specialist in the manufacture of high-quality wiring harnesses. The group generated sales of more than EUR 30 million in 2011.
With Zurmont Madison, the company gets a strong partner, with the previous owners remaining actively involved in the running of the company. Zurmont Madison's majority interest (55%) will open up access to solid financing solutions and help in the implementation of its ongoing growth strategy. After experiencing rapid growth over the past ten years, the company now faces the next step towards internationalization. In particular, the synergies with Zurmont Madison Group shareholdings featuring similar setups lead to expect the company to continue to develop in a healthy manner.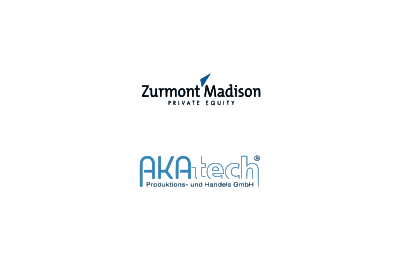 Zurmont Madison acquired AKAtech from the founders
The latest information about MP
Ready to start?!
Our teams of specialised dealmakers and ambitious M&A
challengers, are ready to take on your challenge – and exceed your expectations, every day.
Market leader in 8 fields of expertise
600+ industrial M&A projects
60+ professionals form the largest industrial M&A team
Adding credibility to your deal
Maximising your value with our challenger mindset