Our Deals
We're proud of our track record of successful deals! And in addition, their specifics can be a great source of information when you're considering a new project. Read on to learn all the ins and outs:
2Connect acquired BCS – BÜSCHEL CONNECTING SYSTEMS GmbH
MP Corporate Finance acted as the exclusive financial advisor to 2Connect in the acquisition of BCS – BÜSCHEL CONNECTING SYSTEMS GmbH
2Connect B.V. is a Netherlands based producer of high mix, low volume custom-made speciality data cables and connectors for the OEM and ODM market. Area of expertise includes the development and production of tailored interconnection solutions with an in-house engineering and development team.
The company has locations in Netherlands, Slovakia, Romania and sales offices in Hong Kong and Beijing. The production is mainly based in Romania where two well-invested production facilities are operated with clean room capabilities.
The company is backed by IK Investment Partners supporting the growth efforts of 2Conenct as a part of a dedicated Buy & Build strategy. With a renowned reputation especially in the BENELUX, 2Connect is at the forefront to not only foster its strong organic growth but also to accelerate its international expansion and end-market diversification with add-on acquisitions.
MP Value Add
Through longstanding expertise in the electronics industry and a vast network of contacts at decision-maker level in the electronic connectors and cable business, MP was able to perform a thorough market and potential target research, quickly identifying the best and most likely suitable companies for 2Connect. With a very clear and defined search profile, MP targeted the right parties at the right time, highlighted the value add and synergetic potential and enabled a mutually beneficial joint approach of BCS and 2Connect.
BCS is a perfect match for 2Connect allowing the full market entry into Germany and underpins the current growth strategy. Furthermore, the specialized product portfolio of high precision special plug connecting solutions from BCS exactly meets 2Connect's highest requirements in terms of technological know-how and opens new avenues of growth through expansion into new verticals such as analytics, mining engineering with high safety standards, telecommunication, etc. – all leveraging the existing setup and market coverage of 2Connect.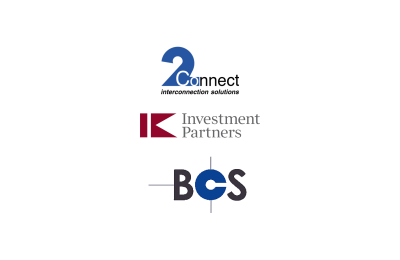 2Connect backed by IK Investment Partners acquired BCS from the shareholder
The latest information about MP
Ready to start?!
Our teams of specialised dealmakers and ambitious M&A
challengers, are ready to take on your challenge – and exceed your expectations, every day.
Market leader in 8 fields of expertise
600+ industrial M&A projects
60+ professionals form the largest industrial M&A team
Adding credibility to your deal
Maximising your value with our challenger mindset