Our Deals
We're proud of our track record of successful deals! And in addition, their specifics can be a great source of information when you're considering a new project. Read on to learn all the ins and outs:
AC Industrials sold MT Technologies to Callista Private Equity
MP Corporate Finance acted as the exclusive M&A advisor to AC Industrial in the sale of MT Technologies to Callista Private Equity.
In accordance with its strategic roadmap, ACI Industrials, the industrial division of one of the Philippines' largest industrial conglomerate Ayala Corporation (PSE: AC, PH), has decided to divest its non-core and distressed asset MT & C-CON Group (MTC), located in Germany. This transaction has led to the integration of MTC into Callista Private Equity's modeling, design, and prototyping business, resulting in the establishment of a consolidated player in the German car modeling market.
MP Value Add
In line with MP's dedicated sector approach, the advisory team was able to execute a full-fledged high-speed process lasting 12 weeks only which was possible thanks to MP's unique know-how of the market and investors. This allowed MP to fully maximise its client's shareholder value while consolidating the car design and modelling market in Germany.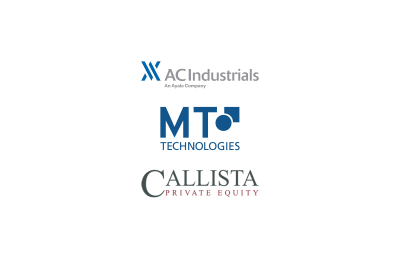 AC Industrials sold MT Technologies to Callista Private Equity
It has been a challenging transaction but the professional and diligent manner as to how MP managed the transaction has been exemplary.

Arthur Tan, President & CEO at AC Industrials
The latest information about MP
Ready to start?!
Our teams of specialised dealmakers and ambitious M&A
challengers, are ready to take on your challenge – and exceed your expectations, every day.
Market leader in 8 fields of expertise
600+ industrial M&A projects
60+ professionals form the largest industrial M&A team
Adding credibility to your deal
Maximising your value with our challenger mindset