Our Deals
We're proud of our track record of successful deals! And in addition, their specifics can be a great source of information when you're considering a new project. Read on to learn all the ins and outs:
Pharmacelsus GmbH sold to GBA Group
MP Corporate Finance acted as the exclusive financial advisor to the shareholders of Pharmacelsus GmbH, a leading German preclinical contract research organisation, in the sale of Pharmacelsus to GBA Group, backed by Quadriga Capital.
Pharmacelsus, founded in year 2000, is Germany´s market-leading early stage contract research organization (CRO). The company specializes in project-critical testing services for small molecules and peptides.
Pharmacelsus' service portfolio comprises the complete drug discovery and development testing program (in vitro, in vivo, ex vivo) as well as G(C)LP and non-GLP bioanalysis. The company is located in Saarbrucken, near the French border and serves life science companies and academic institutions in all major European pharma markets and the US.
The GBA Group is a leading lab service provider with 12 subsidiaries in the Germanic region. The company is backed by Quadriga Capital. With this transaction, GBA strengthens its growing Pharmaceutical division. Both companies expect to benefit from synergies due to substantial cross-selling opportunities and operational benefits.
MP Corporate Finance supported Pharmacelsus' shareholders during the entire process. The transaction team executed a detailed successor analysis and prepared all process-related documents. MP managed communications with investors and took the commercial lead in SPA negotiations. MP Corporate Finance executed a swift and tailored M&A process, drawing on extensive transaction experience and deep pharmaceutical industry know-how.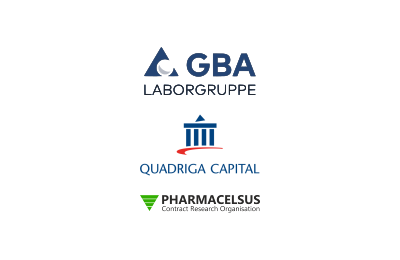 Pharmacelsus sold to GBA backed by Quadriga Capital
We were very pleased by with the support from MP during the entire process of the sale of our business. We really welcome the opportunity of the GBA Group moving the company forward to the next stages of its growth. The MP team has done a great job. Many thanks to them for getting what we believe was the best outcome of this transaction.

Dr. Christine Batzl-Hartmann, CEO & Founder at Pharmacelsus GmbH, Germany
The latest information about MP
Ready to start?!
Our teams of specialised dealmakers and ambitious M&A
challengers, are ready to take on your challenge – and exceed your expectations, every day.
Market leader in 8 fields of expertise
600+ industrial M&A projects
60+ professionals form the largest industrial M&A team
Adding credibility to your deal
Maximising your value with our challenger mindset