Our Deals
We're proud of our track record of successful deals! And in addition, their specifics can be a great source of information when you're considering a new project. Read on to learn all the ins and outs:
The shareholders sold IG Industries & Brayford Plastics to ProAmpac
MP Corporate Finance acted as the exclusive M&A advisor to the shareholders in the sale of IG Industries & Brayford Plastics
IG Industries is a leading independent player in the United Kingdom dedicated to the extrusion of polyethylene-based films. The company offers an almost completely recyclable product range to customers in several industries, including food, drinks, industrials and home care.
IG Industries is well-known for its strong in-house innovation capabilities, being able to design a wide range of bespoke solutions tailored to individual customer requirements. In 2018 IG Industries completed the acquisition of Brayford Plastics, a converter specialized in printed films and bags mainly for the food industry.
ProAmpac is a leader in flexible packaging and material science owned by Pritzker Private Capital along with management and other co-investors. Following the acquisition of IG Industries, ProAmpac extended its global network to 38 manufacturing sites and nearly 4,900 employees servicing 5,000 customers across 90 countries worldwide.
Post-acquisition the company will continue to be managed by the existing management team to ensure consistent high quality and service level to its customer portfolio.
MP Value Add
MP was able to secure a premium exit, surpassing the shareholders' expectations based on deep sector know-how, a tailored process, selection of the most suitable partners and taking the lead in the negotiations.
A successful transatlantic deal could be facilitated by MP's strong process management, despite the challenges imposed by the global COVID-19 pandemic with lock-downs in the UK and travel restrictions from the US.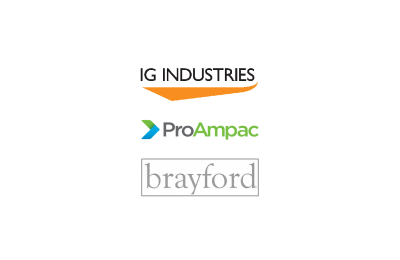 The shareholders sold IG Industries & Brayford Plastics to ProAmpac
The latest information about MP
Ready to start?!
Our teams of specialised dealmakers and ambitious M&A
challengers, are ready to take on your challenge – and exceed your expectations, every day.
Market leader in 8 fields of expertise
600+ industrial M&A projects
60+ professionals form the largest industrial M&A team
Adding credibility to your deal
Maximising your value with our challenger mindset