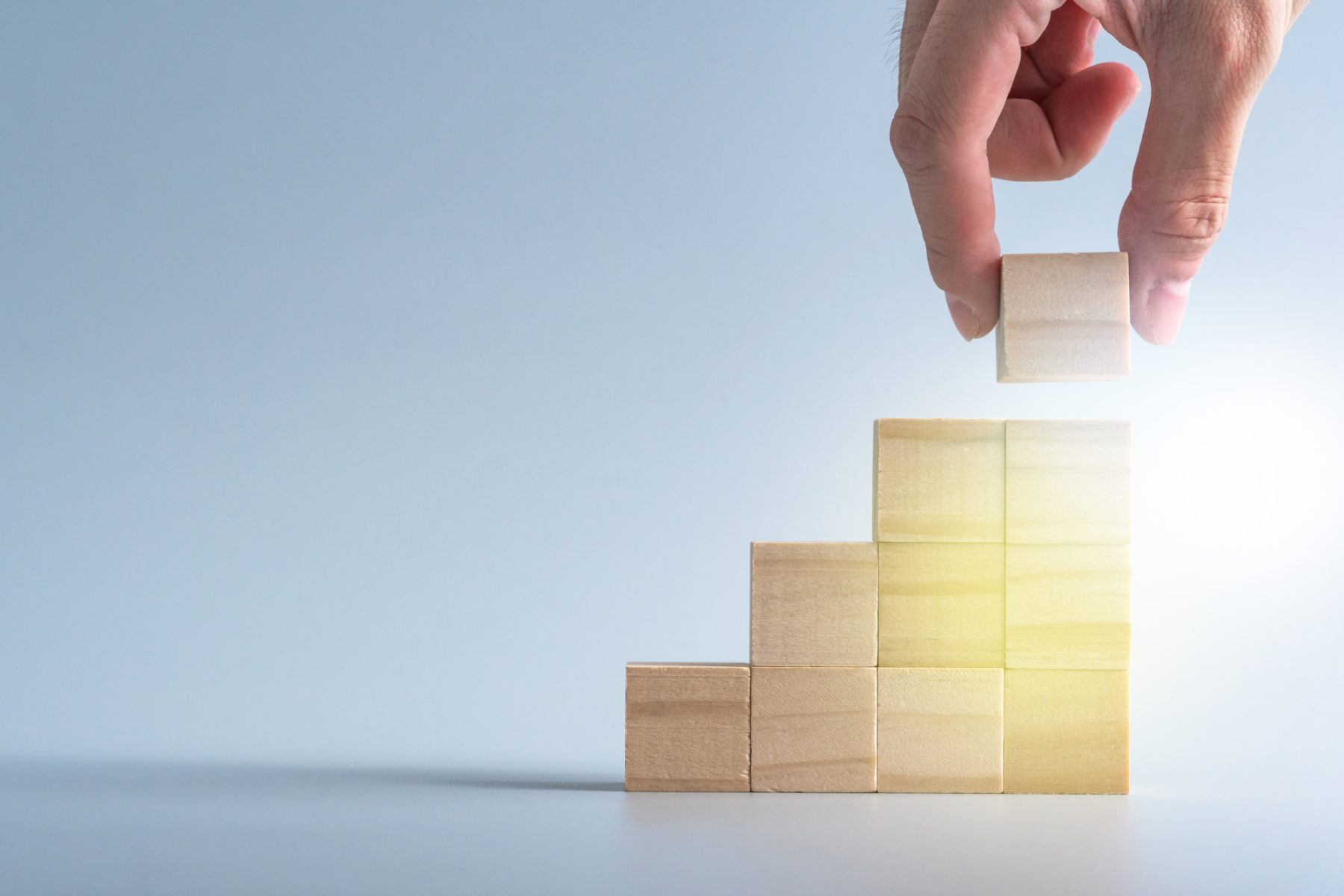 Take the chance – Create your future at MP
Are you wondering what YOUR career at MP could look like? To set the scene: MP is looking for motivated talents who are passionate about the M&A business and have the drive to develop to our highest career level, the Managing Partner.
At MP, we have created a clearly structured career path to show our employees their long-term growth opportunities in a transparent and fair way. That enables us to reward our colleagues for their outstanding performance and allows them to rise above themselves. At the same time, it is important to us that our employees have the chance to help shape their own career paths. But what does MP's career development plan look like?
The career start at MP is often either through our master's program or an M&A Internship and can look like this:
1. BD Analyst (= MP Master Program)
Start your career with our part-time MP Master Program! As a Business Development Analyst, you are working side by side with one of our dealmakers to support him with his business development activities. From day one, you get a very close insight into one of our sectors and have the opportunity to develop a deep understanding of the key market drivers, which will help you tremendously in your future career.
2. Internship
You don't have any practical M&A experience yet, but would like to gain know-how in a full-time position and immerse yourself in the vibrant world of M&A? In this case, our M&A Internship might be the right choice for you. As an MP Intern, you will have the opportunity to get a sense of M&A by supporting our deal teams with market and industry analysis, company valuation, the preparation of project documentation and pitch books. As our Interns work with different project teams, the advantage for you is the possibility of quickly making new acquaintances in the company, getting to know different ways of working and participating in several international projects.
3. Analyst
After your employment as BD Analyst, Intern, or if you already have relevant work experience from other companies, you may continue or start your MP career at Junior Analyst, Analyst or Senior Analyst level – depending on your previous experience and skills. The activities as an M&A Analyst cover all phases of an M&A process. This ranges from pitch presentations, longlisting, shortlisting, financial analyses, financial modelling and due diligence preparations to the complete project documentation. We strive to ensure that our Analysts take on responsibility quickly and offer them the opportunity to participate in initial business trips already at this early stage.
4. Associate
As an Associate, your responsibilities are similar to those of an Analyst. But due to your experience, you are already much more independent in the daily execution of your tasks. Process management comes increasingly to the fore at the Associate and Senior Associate levels.
5. Manager
Congratulations, you have made it! Welcome to the first MP management level. Your task is to take over the coordinative project management role, i.e., you are responsible for the progress of the project process and the coordination of project members and external stakeholders. You have document responsibility for pitches, IMs, management presentations and LOIs, and you are in charge of presenting pitches for the first time. Our Managers also take an active role in developing and supporting the career of our Interns, Analysts and Associates.
6. Vice President
In order to develop your skills continuously, your task as Vice President is to handle project management together with the dealmaker, stay in contact with the clients and often you are also conducting LOI and SPA negotiations quite independently. Pitch presentations are still an essential part of your job.
7. Director
Well done, you are Director! Now, efforts are focused on developing you into a good dealmaker with your next promotion to Managing Director. In addition to handling project management on your own, you will begin to actively deal with the topic of business development and increasingly take part in business development meetings with the Sector Head.
8. Managing Director
Great achievement! As Managing Director, you have reached the first Dealmaker level. You are now responsible for one of our sectors. Within that sector, you have two main responsibilities: Conducting your own business development activities and successfully executing projects. As a Dealmaker, you act as a senior partner for other team members and take an active role in supporting and developing them.
9. Managing Partner
As Managing Partner, you have reached the MP Olympus! Still responsible for your sector, an even more strategic component in steering and developing your sector rounds up the previously described Dealmaker activities.
A transparent, competency-based promotion scheme leads you through your entire career path at MP. You will advance in the career path depending on how well you meet these competencies and develop yourself. The bottom line for you is that promotions are not exclusively linked to the length of time you have been with the company but firmly to the individual achievement or overachievement of competencies. This allows you to strongly influence the speed of your own career progress.
If all of this sounds exciting to you, take the chance now and check out our open vacancies. Let's get moving and impact business together, true to the motto: Getting Deals Done!
The latest information about MP
Ready to start?!
Our teams of specialised dealmakers and ambitious M&A
challengers, are ready to take on your challenge – and exceed your expectations, every day.
Market leader in 8 fields of expertise
600+ industrial M&A projects
60+ professionals form the largest industrial M&A team
Adding credibility to your deal
Maximising your value with our challenger mindset